BACK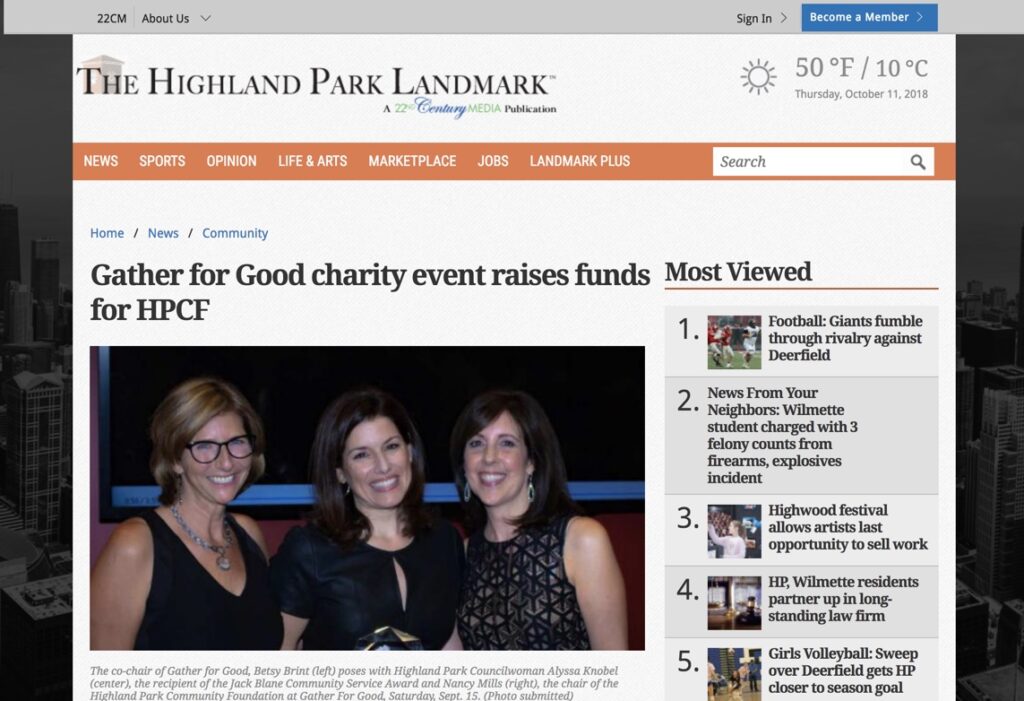 Highland Park Landmark: Gather for Good charity event raises funds for HPCF
20

Oct 2018
The evening was an amazing coming together for good.
It was the Highland Park Community Foundation (HPCF) first Annual Gather for Good Celebration, Sept. 14 at Highland Park's Binny's Beverage Depot.
About 300 Highland Park and Highwood residents, business owners civic leaders and other HPCF supporters gathered together for an evening of fun, food and socializing while raising money for the foundation. HPCF helps address the unmet needs of many Highland Park and Highwood residents by giving grants to local nonprofit organizations that provide social services, educational programs and cultural art enrichment.
Ten percent of all purchases at Binny's during the evening benefited HPCF.
Guests at the celebration enjoyed food demonstrations courtesy of local chefs. No one could have gone home hungry.
WLIT radio show host Melissa Forman emceed the event.
"We were blown away by the many people who came to support the foundation, its work and give back to their community," said Nancy Mills, foundation chairperson at HPCF. "There are increasing economic circumstances that affect many residents in the Highland Park and Highwood communities who need the help of our local nonprofit organizations, which are being stretched thin as a result."
Highland Park Councilwoman Alyssa Knobel received the annual Jack Blane Community Service Award for her dedication to the community and active participation in numerous civic and charitable organizations.
"I always felt it was my obligation to be involved in the activities of my community and give back to the place (Highland Park) that has given me so much," Knobel said. "I like the idea of giving to the Foundation (HPCF) because it takes the guesswork out of making sure no one in the community gets left behind in their time of need. The Foundation is there to help our neighbors through the community's local nonprofits."
The HPCF was established in 1992 at the request of the City of Highland Park to provide a safety net for agencies and organizations that provide programs and services for Highland Park and Highwood residents. The purpose was to improve and enrich people's lives with annual grants to nonprofit agencies that operate locally.
"The Highland Park Community Foundation is an absolutely vital resource for our Highland Park and Highwood communities," said Highland Park Mayor Nancy Rotering. "It helps a broad spectrum of nonprofit agencies in our own backyard. We must help it continue to grow. We must take care of our own."
The HPCF has quietly been giving grants to these agencies for more than 20 years since then according to Mills.
"We have been doing it with an endowment and a small group of people who have donated money to support many of these local nonprofits," said Mills. "The needs of many Highland Park and Highwood residents are growing, particularly in certain areas like mental health, as are the requests for grants from local nonprofits to help them. The dollars unfortunately are decreasing. Government funding is dwindling."
"Last year we gave out 35 grants totaling nearly $183,000," said Betsy Brint, HPCF co-chair. "The number of grant requests increased and the dollars we were able to give out increased; however, we were not able to meet all the requests. We need to raise more funds. We hope we will surpass our goal of $100,000 at tonight's Celebration."
Robyn Schuster is the other co-chair of the event.
"I got involved because I wanted to give back where we live," Schuster said. "I discovered the broad impact HPCF has on the community. Each board member is assigned to a group of nonprofits, educates them on certain aspects that would be helpful and also serves as a resource. I like the way the foundation gets personally involved."
Schuster currently serves as the CFO of the National Immigration Justice Center.
"I live every day knowing first hand how much financial help nonprofits need serving others," Schuster said.
Each HPCF board member had heartfelt stories about how local Highland Park and Highwood residents were helped because of grants to local nonprofits.
"Food insecurity is a reality often overlooked in Highland Park and Highwood," Brint said. "Two organizations we fund are Blessings in a Backpack and the Northern Illinois Food Bank. Blessings in a Backpack ensures children have food when they go home from school over the weekend. The Northern Illinois Food Bank, serves as a mobile food pantry to Highland Park and Highwood residents out of the Highwood Recreation Center. HPCF board members, staff and I volunteer to help set up and distribute the food to residents. This is a true neighbor to neighbor effort helping ensure families in our community have nutritious food readily available."
Brint continued that HPCF funds Southeast Faith in Action of Southeast Lake County that provides rides for seniors so they can go to and from medical appointments, social activities and the grocery store on a weekly basis.
"Providing transportation also gives seniors someone with whom to talk," Brint said. "We fund many scholarships for day care/nursery schools for children of low income families in Highland Park/Highwood. This serves a dual purpose. It allows parents to work and gives young children the birth to three the education to prepare them for school. Those early education years have been proven to be vital toward success in later years. The HPFC funds programs in the arts also proven to improve graduation rates in low income students."
The purpose of the event, Gather for Good Celebration similarly served to promote philanthropy in the local community.
"Many people do not give locally," said Terri Olian, executive director-HPCF. "This is an opportunity to remind residents there are needs where they live. We ask they consider giving locally along with whatever other organizations they may want. There are needs here."
"We also are aware some Highland Park families have their own foundations," said Deobrah Brill, HPCF administrator. "We hope they will consider giving a portion of the five percent they are required to donate each year to HPCF to help those nonprofits in their own community. Give where you live."
FULL ARTICLE FROM HIGHLAND PARK LANDMARK REPRINTED HERE.
To subscribe to the Highland Park Landmark:
click here
BACK
---