We gratefully recognize all our Corporate Champions! Their multi-year support provides us with reliable resources to address unmet needs in our community and enrich the lives of all residents.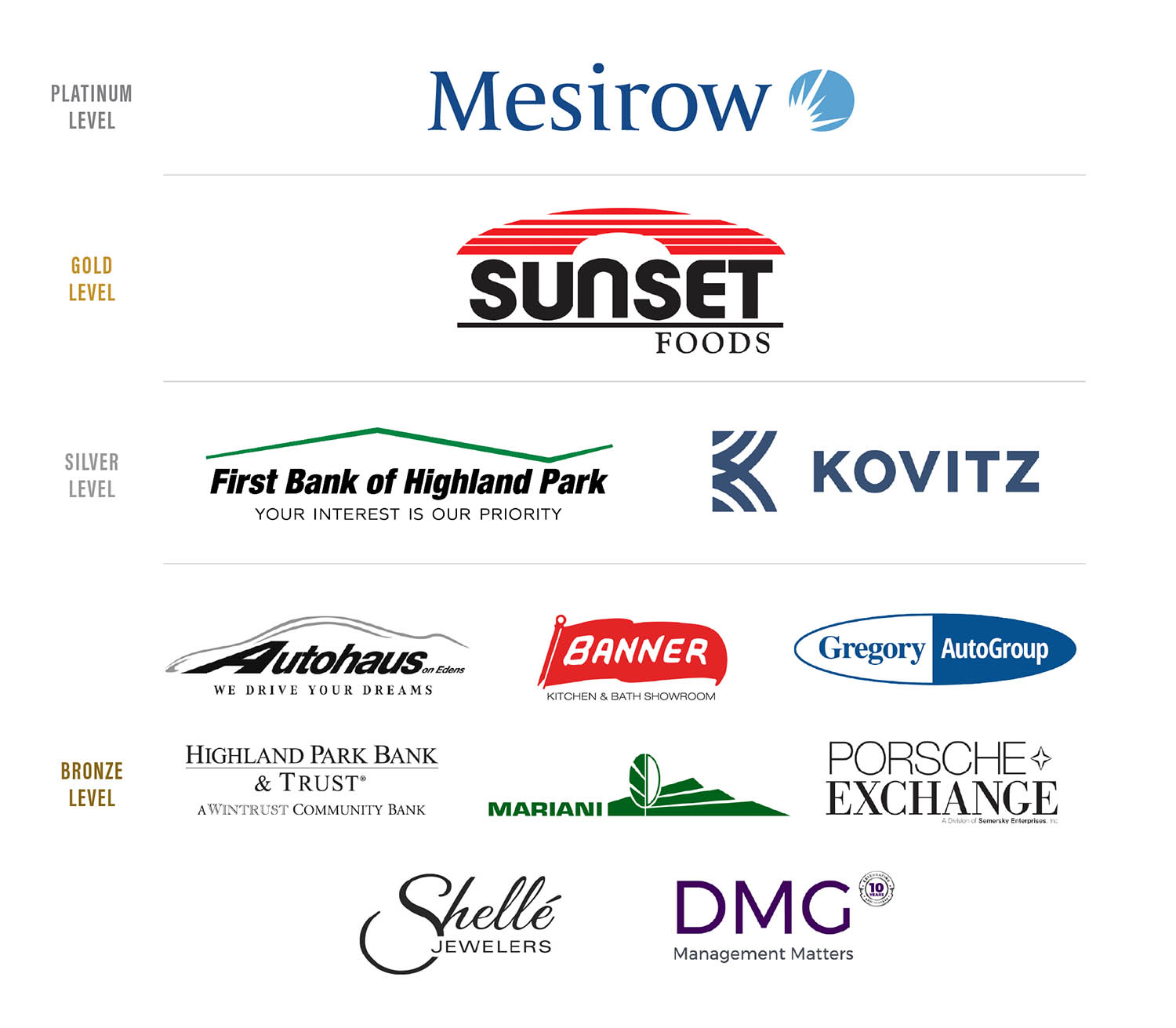 Become a Corporate Champion Today!
Corporate philanthropy matters now more than ever to employees, clients, customers, and shareholders.
At a time when communities need support like never before, businesses small and large are being called upon with an expectation to give back.
Donations to the Highland Park Community Foundation provide critical funding for programs and services Highland Park and Highwood residents need to thrive or, sometimes, just to survive.
Through our annual grants to nonprofits we address unmet needs in five main categories: education, human services, senior services, services for individuals with disabilities, and the creative and cultural arts.
During the coronavirus pandemic, we have also provided emergency grants for food and household essentials; PPE; baby supplies; general counseling services and counseling services for victims of sexual abuse; webcams, mobile devices, and software upgrades to support remote learning for students, mental health and counseling services for youth and adults, and programming for individuals with special needs; housing for victims of domestic violence and their children; affordable legal services in the areas of housing, domestic violence, and immigration; and more.
By supporting our work, your business will improve the quality of life for Highland Park and Highwood children, teens, families, and seniors. Our community as a whole will benefit as a result.
A partnership and affiliation with HPCF and our grant recipients will provide benefits to your company, such as:
Improved brand awareness and reputation
Increased employee engagement and productivity
Enhanced employee recruitment success
A broadened network, and customer loyalty via shared values
Tax savings associated with charitable giving
---
In 2020, Mesirow Financial became our first Corporate Champion at the Platinum level.
Recognizing the extent of the unmet needs in Highland Park and Highwood, Mesirow made a 5-year commitment to support our efforts to address them.
"For more than 80 years, Mesirow's commitment to our clients and our communities has included investment in the places where we live and work. We are pleased to be partnering with the Highland Park Community Foundation in a long-term investment to support and enrich the lives of those in and around Highland Park and Highwood."
Richard Price, Executive Chairman, Mesirow Financial and long-time Highland Park resident
Mesirow's generosity will ensure a better quality of life for Highland Park and Highwood residents.
Please join them in providing hope for a better future, bolstering spirits, and changing lives!
---
For More Information, Contact:
Terri Olian,
Executive Director
terri@hpcfil.org
847-433-4100
Sources:
https://www.givinga.com/corporate-philanthropy-benefits/
https://www.insidephilanthropy.com/home/2020/3/17/the-benefits-of-creating-a-corporate-philanthropy-program