BACK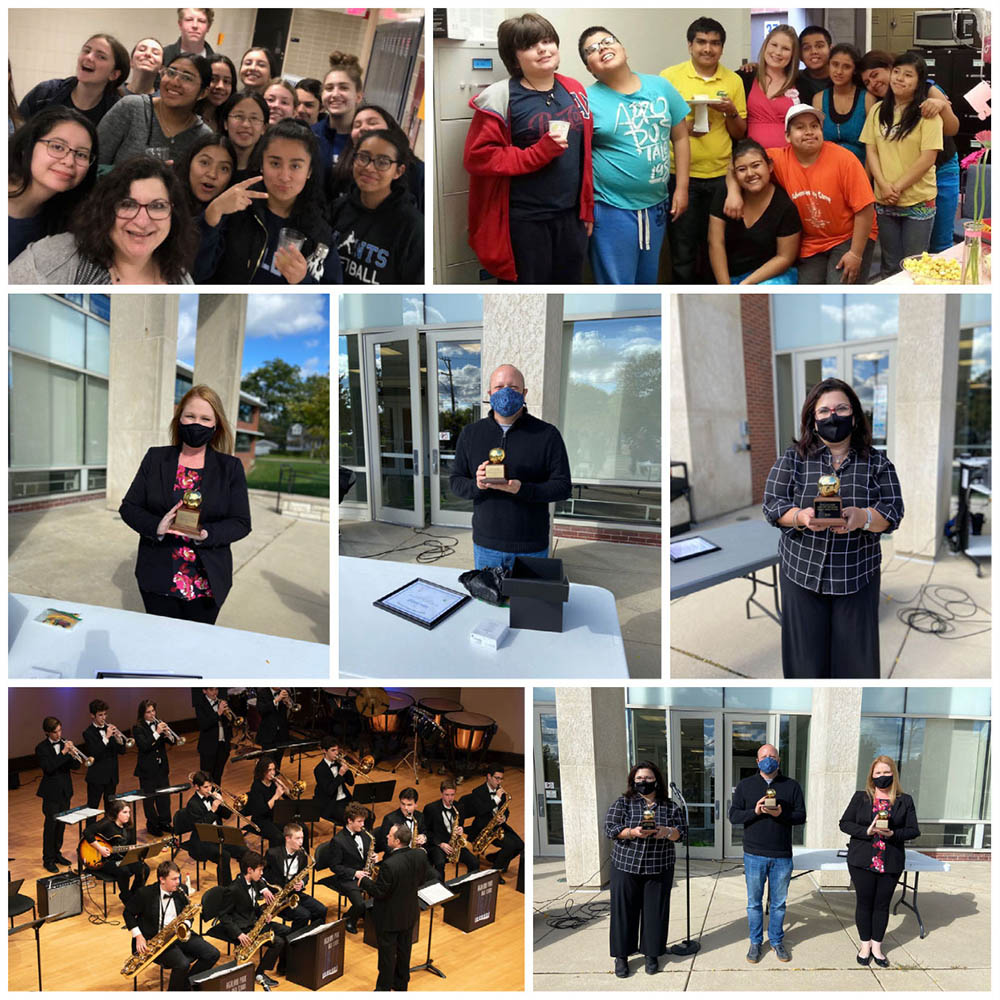 Highland Park Community Foundation Honors Highland Park High School Teachers with 2020 HPCF Golden Apple Award
2

Nov 2020
2020 Highland Park Golden Apple Award Honors 3 North Shore School District 113 High Teachers Josh Chodoroff, Nairy Hagopian and Katrina Tolemy
Highland Park, IL – September 30, 2020: The Highland Park Community Foundation (HPCF) has recognized three well-deserving Highland Park High School teachers with 2020 HPCF Golden Apple Awards. This year's honorees are Josh Chodoroff, HPHS Band Director; Nairy Hagopian, Spanish Teacher; and Katrina Tolemy, Special Education Essentials Teacher.
"The Highland Park Community Foundation is privileged to honor Josh, Nairy, and Katrina as the HPCF's 2020 Golden Apple Recipients," said Sara Sher, HPCF Golden Apple selection committee chair. "We want to recognize these exemplary teachers for the valuable work they do every day on behalf of the children in our community. The Highland Park Community Foundation celebrates these extraordinary individuals for their positive impact and their teaching in both the classroom and the virtual world."
To recognize outstanding teachers in the Highland Park School systems, in 2010, the Highland Park Community Foundation worked with a local family foundation to launch the annual HPCF Golden Apple Award. The HPCF is forever grateful to past-Chairman and Board member Andy Livingston for initiating the Award. He passionately brought the idea of an honorary award to the HPCF Board to celebrate outstanding teachers in the Highland Park community. Under his leadership, the HPCF Golden Apple Award became a signature program of the Foundation.
A longtime supporter of the Foundation, Mr. Livingston first joined the HPCF Board in 2004. He served as Vice-Chairman from 2006-2009 and then led the Foundation as Chairman for three years. He remained a Board member until 2015 and then served as a vibrant member of the HPCF Advisory Board member until his passing. Mr. Livingston's wife Anne was a special guest in attendance at this year's 2020 Golden Apple Award presentation.
HPCF Golden Apple Award nominations are made in a rotating cycle: K-5, 6-8, and 9-12. A selection committee composed of exemplary current and retired educators and administrators and former Award recipients, evaluates the extensive applications, and completes a full day of observation. A final recipient of the Award is then chosen based on instruction, content knowledge, student and staff interaction, and contribution to school and community.
When the 2019-2020 school year was disrupted by the Coronavirus outbreak, the committee was unable to complete the full-day observations and select a final recipient. Given the outstanding applications and recommendations each finalist had received, the committee and HPCF Board decided to honor all three finalists. They did so on September 30th at a socially distanced and masked presentation on the front steps of Highland Park High School. By honoring these exceptional educators, the Foundation hopes to demonstrate the strength and importance of excellent teaching in helping young people reach their potential.
BACK
---