BACK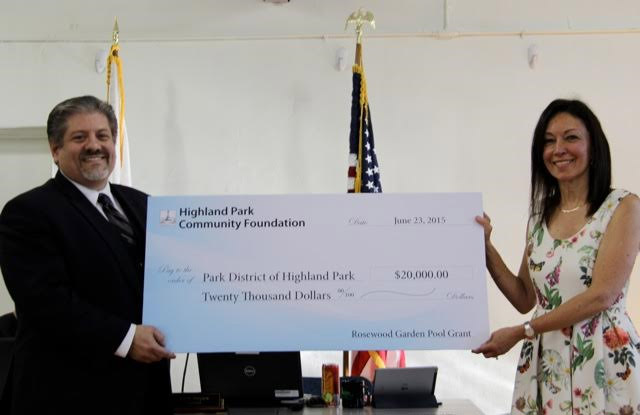 Highland Park Community Foundation Gives $20,000 for Park District Study
20

Jun 2015
The Highland Park Community Foundation presented $20,000 to the Park District of Highland Park Board of Park Commissioners at the June monthly meeting. The funds will be used by the Park District for a feasibility and cost study for the renovation of the Jens Jensen pool and landscape area at Rosewood Park. The pool and surrounding area are remnants of the original Rosenwald Estate that dates back to 1913.
The Foundation's contribution is a portion of the funds set aside by "Friends of Jens Jensen" to be used for future park improvements and on-going maintenance of Jens Jensen Park. The "Friends of Jens Jensen" was a local citizen group which raised funds to off-set the costs of the Park District's renovation of Jens Jensen Park in 2005.
The Rosewood Park pool and landscape feasibility study will include:
A study the pool's structural and water holding condition
Determination of a source and supply of water and electricity to the site needed to fill and reestablish pool circulation
An initial plan for its restoration of the stonework – pool walls, benches and walkway at and near the pool
A landscape plan in keeping with the Jensen theme using currently available materials
Review and recommendation for public access route(s) to the site in keeping with the site's layout and needs as a public park
A budget estimate for completion of the ultimate restoration plan
"The Park District of Highland Park appreciates the Foundation recognizing the significance of the remnants of the Jens Jensen landscape at Rosewood," said Liza McElroy executive director for the Park District of Highland Park. "The funds will help the Park District come closer to achieving our long-term goals for Rosewood Park."
PHOTO:
Scott Meyers, president of the Board of Commissioners for the Park District of Highland Park, is presented with a check from Laurie Levin, board member of the Highland Park Community Foundation, for a feasibility study for the renovation of the Jens Jensen pool at Rosewood Park.
BACK
---