BACK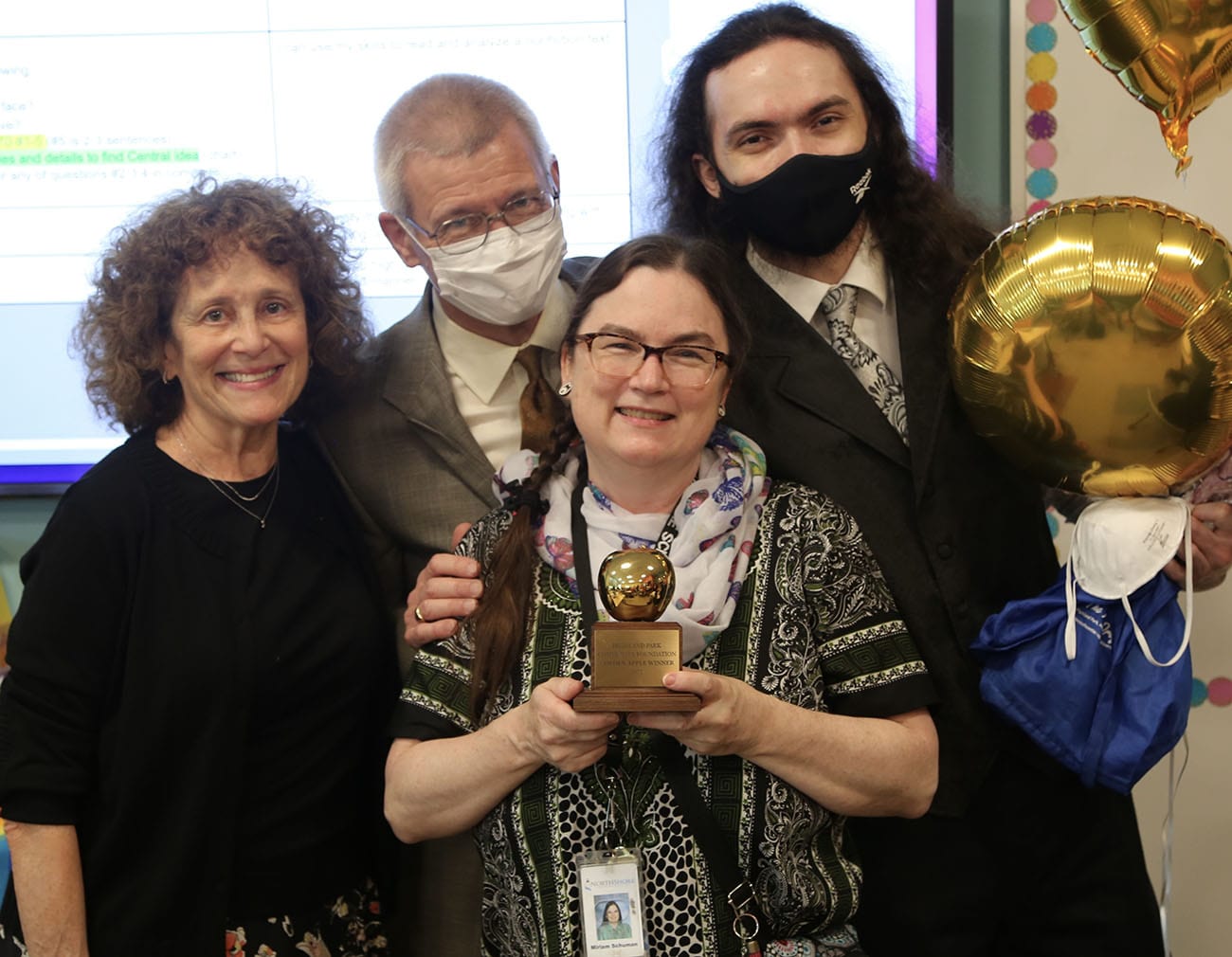 Highland Park Community Foundation Awards HPCF Golden Apple Award to Miriam Schuman, Northwood Middle School Special Education Teacher
27 May 2022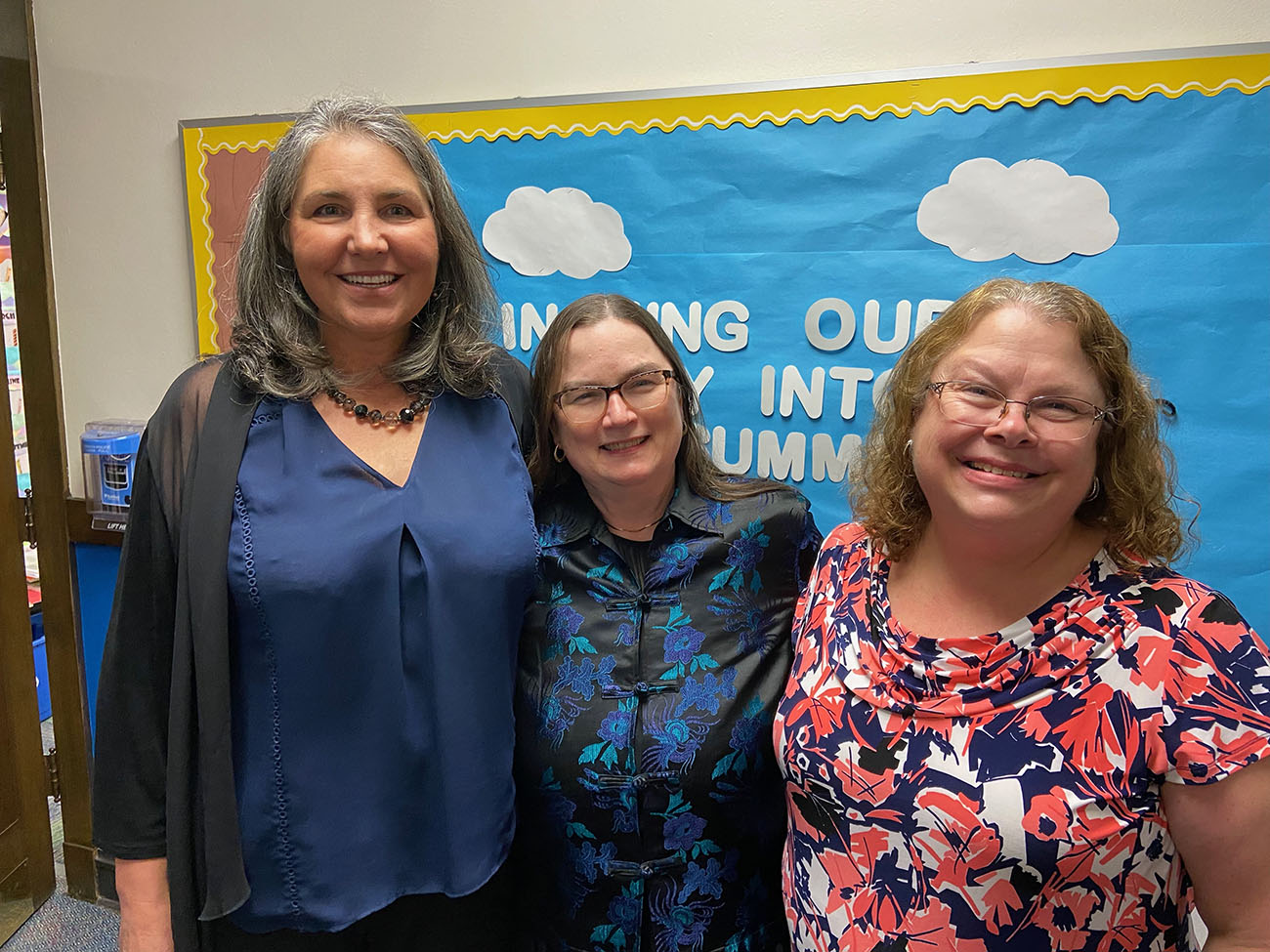 2022 Golden Apple Committee Nominated Three Semi-Finalists Margaret Delligatti (Band/Orchestra), Heather Palmer (French), and Miriam Schuman (Special Education)
The Highland Park Community Foundation (HPCF) is pleased to announce the recipient of the 2022 HPCF Golden Apple Award. This year's deserving honoree is Miriam Schuman, Northwood Middle School Special Education Teacher.
"Miram is the epitome of what a HPCF Golden Apple teacher should be," said Betsy Brint, Foundation Chairman. "By honoring exceptional educators, the HPCF hopes to demonstrate the strength and importance of excellent teaching in helping young people reach their full potential."
A collaborative and passionate teacher, Miriam embodies a gentle strength that fosters a calm classroom environment and provides an opportunity for open dialogue between the teacher and her students. As part of a three-person team, she creates seamless lessons and continually motivates her students. She regularly includes technology and other innovative resources to meet their individual needs
Miriam's passionate nature and willingness to try new strategies make her a lifelong learner who regularly reflects on her teaching and collaborates with her colleagues to help her students succeed. After learning Korean, Miriam noted that learning a new language gave her a better and true understanding of what it is like to seek out a challenge. "I can share with my students that I understand more of what they are going through in the learning process."
Miriam is a light in the building whose tireless optimism and deep-rooted work ethic has resulted in countless fans within her school community. Colleagues refer to her as the "Wizard" because she will not stop until she finds a learning solution that meets her students' needs.
She has other fans as well. As a member of the HPCF Golden Apple Selection Committee noted, "Miriam offers guidance and ongoing support for change within the lives of her students. For students who face the greatest challenges, she will be the person who changes their path, believes in them, and makes them lifelong learners, knowing themselves, and trusting their own abilities." One of her students commented, "She would drive to the moon and back for us."
As this year's honoree, Miriam received a $2,000 honorarium, a $500 gift card to the Apple store, and a Golden Apple statue.
The HPCF Golden Apple Award is given out annually to teachers in the Highland Park Public School systems. Just like the State of IL Golden Apple program upon which it is modeled, a selection committee (comprised of current and retired educators, administrators, and former HPCF Golden Apple recipients) evaluate extensive applications and complete a full day of observation for each semi-finalist. The final recipient of the award is chosen based on instruction, content knowledge, student and staff interaction, and contribution to school and community.
This year's nominations were accepted for full-time teachers in grades 6-8 who have completed at least four full years of teaching. The selection committee received many excellent nominations, and after a rigorous and intensive review process, narrowed the nominations to three semi-finalists: Margaret Delligatti (band/orchestra), Heather Palmer (French), and Miriam Schuman (Special Ed). All three of these exemplary educators provide a safe learning environment, go above and beyond what teachers are expected to do in the classroom and school community, and were innovative and supportive during the pandemic. All are loved and respected by colleagues, administrators, parents, and, most of all, their students. All three were honored publicly at the May 17 District 112 School Board meeting.
"Being part of the Golden Apple Selection Committee is humbling," said Sara Sher, HPCF Golden Apple Award Committee Chairperson. These teacher truly represent the best of the best. District 112 is very lucky."
To learn more about the Highland Park Community Foundation and its work, please visit: hpcfil.org. For more information, please contact Terri Olian, Executive Director, at terri@hpcfil.org or 847-433-4100. To donate online, please visit hpcfil.org/donate.
About Highland Park Community Foundation: The Highland Park Community Foundation was established in 1992 at the request of the City of Highland Park to build and maintain a permanent endowment fund. As the philanthropic heart of the community, the HPCF improves and enriches people's lives with annual grants to nonprofits that provide educational, social service, and cultural programs for Highland Park and Highwood residents. The Foundation's avowed purposes are to expand opportunities and address the unmet needs of the community – needs that are not met by governmental or other sources.
The Highland Park Community Foundation maintains Candid's (formerly GuideStar's) 2022 Platinum Seal of Transparency – Candid's highest level of recognition – and has received a 100 out of 100 rating from Charity Navigator through their Encompass Rating System.
Press Contact: Gayle Mandel: gaylemandel@gmail.com
BACK
---