BACK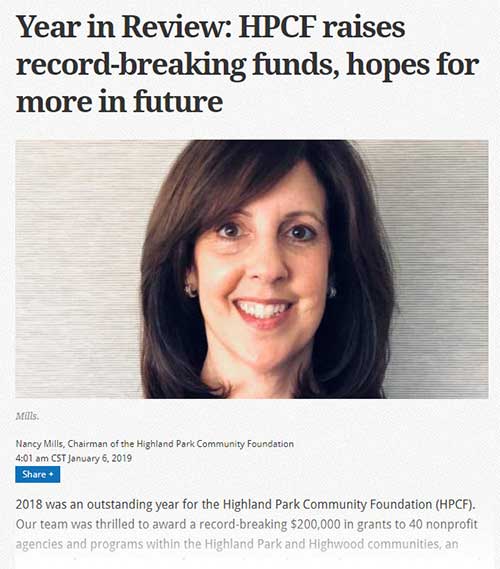 Year in Review: HPCF raises record-breaking funds, hopes for more in future
6

Jan 2019
Year in Review
Nancy Mills, Chairman of the Highland Park Community Foundation 4:01 am CST January 6, 2019
2018 was an outstanding year for the Highland Park Community Foundation (HPCF). Our team was thrilled to award a record-breaking $200,000 in grants to 40 nonprofit agencies and programs within the Highland Park and Highwood communities, an increase of 11% over 2017's gifts. We are honored to provide grants to so many worthy organizations who tirelessly serve those in need and provide necessary programs to help local residents.
In addition to addressing needs, the Foundation is dedicated to recognizing community members for their exemplary contributions.
Each year the Foundation presents special awards for outstanding community service including the annual Jack Blane Community Service Award, presented this year to Highland Park City Councilman Alyssa Knobel, and the HPCF Golden Apple Award was awarded to Jon Mall, Northwood Junior High School 7th grade Social Studies and Academic Exploration teacher. We also presented the inaugural Personal Achievement Award to Highland Park High School student Jason Estrada. This special award was created to recognize a student who overcomes obstacles to achieve personal goals.
In September, we hosted Gather for Good, our first major fundraiser. The event was a spectacular success raising over $100,000 including in-kind donations. With over 300 attendees, fantastic support from the community, and the generosity of numerous sponsors, we raised both funds and awareness for HPCF's efforts.
To further share our mission with the community, our board participated in a number of Highland Park and Highwood events including the City of Highland Park's July 4th Parade, Highwood's Evening Gourmet Market and Highland Park's National Night Out.
It was also our pleasure to be the primary sponsor of the music at Food Truck Thursdays this summer in Jens Jensen Park. In addition, the Foundation was honored to be featured on the First Bank of Highland Park's Ruth Fell Wander Community Art Wall during the month of October.
Closing out this year, we're thrilled to announce that the City Council of Highland Park has approved a grant agreement through which we will allocate $300,000 of City grant funds designated for nonprofit organizations. The Council's action is a strong testament to the work we have done over the past 26 years to address the needs of our community now and in perpetuity.
As we enter the new year, one fact stands out. Many more needs exist than we can meet through our endowment fund. Though, in 2018, we provided $200,000 in grants to help fund 40 programs and services, we received funding requests for $145,000 more than we were able to provide.
The needs are real, and the needs are great. Our goal for 2019, therefore, is to have a signature year of fundraising in which current and new donors will remember that when you "Give Where You Live," we all benefit. Donations to the Foundation help nurture children, strengthen families, assist older adults, support individuals with disabilities, develop leadership and academic confidence in teens, enhance artistic experiences, and more. For more information about the Foundation and to jumpstart our year with an online donation, visit hpcfil.org, or contact our Executive Director, Terri Olian, at terri@hpcfil.org.
Read the story on:
hplandmark.com
BACK
---