BACK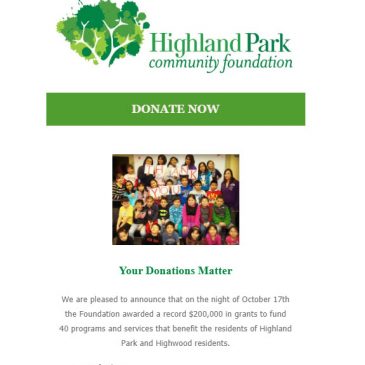 HPCF Fall 2018 Newsletter
29

Oct 2018
Your Impact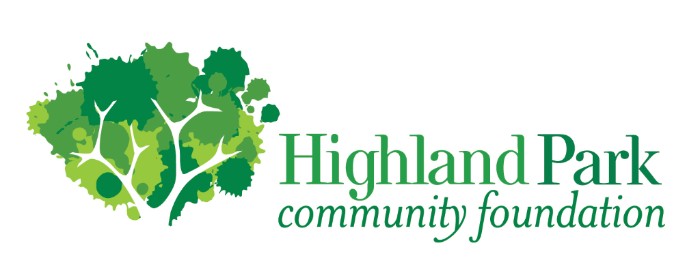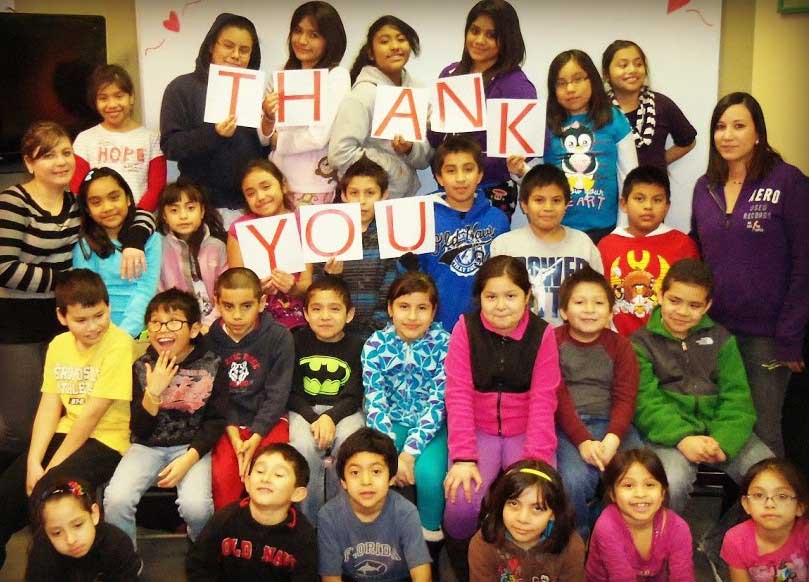 Your Donations Matter
We are pleased to announce that on the night of October 17th the Foundation awarded a record $200,000 in grants to fund 40 programs and services that benefit the residents of Highland Park and Highwood residents.
A Safe Place
Anixter Center
Big Brothers/Big Sisters
Bitter Jester Foundation for the Arts
Blessings in a Backpack Highland Park
Catholic Charities, Lake County Senior Services
Center for Enriched Living
Center for Independent Futures
College Bound Opportunities
Community – The Anti-Drug Coalition
East on Central Association
Family Focus Highland Park
Family Service of Lake County, Community Counseling
Family Service of Lake County, Latino Educational Continuum
Focus on the Arts, Inc.
Glenkirk
Highland Park Aquatics Club
HPCF's Golden Apple Award
Highland Park Community Nursery School & Day Care Center
Highland Park High School, Homework Club
Highland Park High School, National Hispanic Institute Summer Program
Highland Park High School, Working Together
Highland Park-Highwood Legal Aid Clinic
Highland Park Library
Highland Park Strings
Jewish Child & Family Service (Response)
Jewish Council for Youth Services (Lutz Family Center)
Jordan Michael Filler Foundation
Kids Rank
Midwest Young Artists Conservatory
Mother's Trust Foundation
Music Institute of Chicago
Northern Illinois Food Bank
Pilgrim Chamber Players
Random Acts of Flowers Chicago
Southeast Lake County Faith in Action Volunteers
Stuart I Raskas Friendship Circle of Illinois
The Art Center Highland Park
Tri-Con Child Care Center
Zacharias Sexual Abuse Center
HPCF 2018 Grant Awards Reception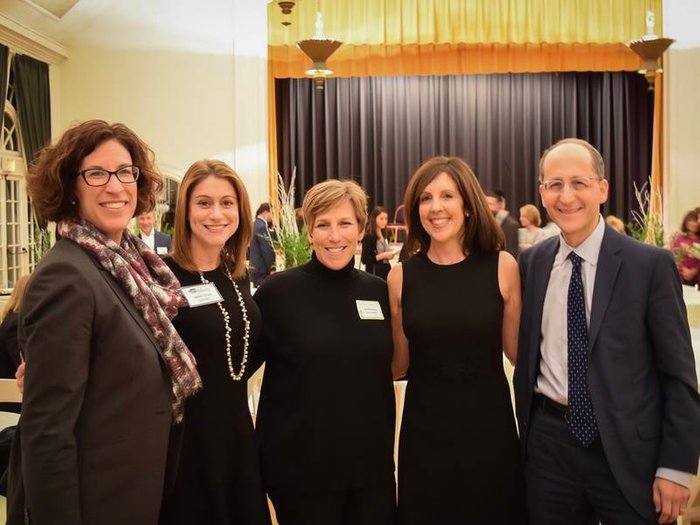 The Highland Park Community Foundation (HPCF) held its 2018 Grant Awards Reception on Wednesday, October 17th at the Highland Park Community House in downtown Highland Park. This year, the Foundation awarded a record-breaking $200,000 in grants to nonprofit agencies and programs, an increase of 11% over 2017's gift total.
Since 1992, HPCF has provided support to expand the services of social, cultural, and educational agencies in Highland Park and Highwood.
"The Foundation is honored to provide grants to these worthy organizations in Highland Park and Highwood who tirelessly serve those in need and provide necessary programs to assist the citizens of our community," said Nancy Mills, Chairman of the Highland Park Community Foundation.
To read the full story:
click here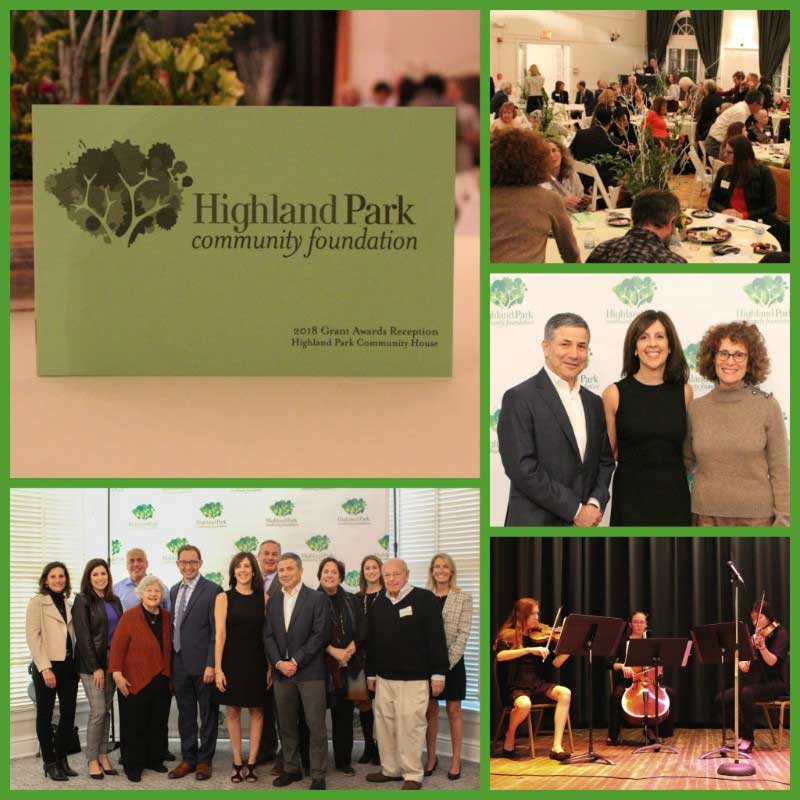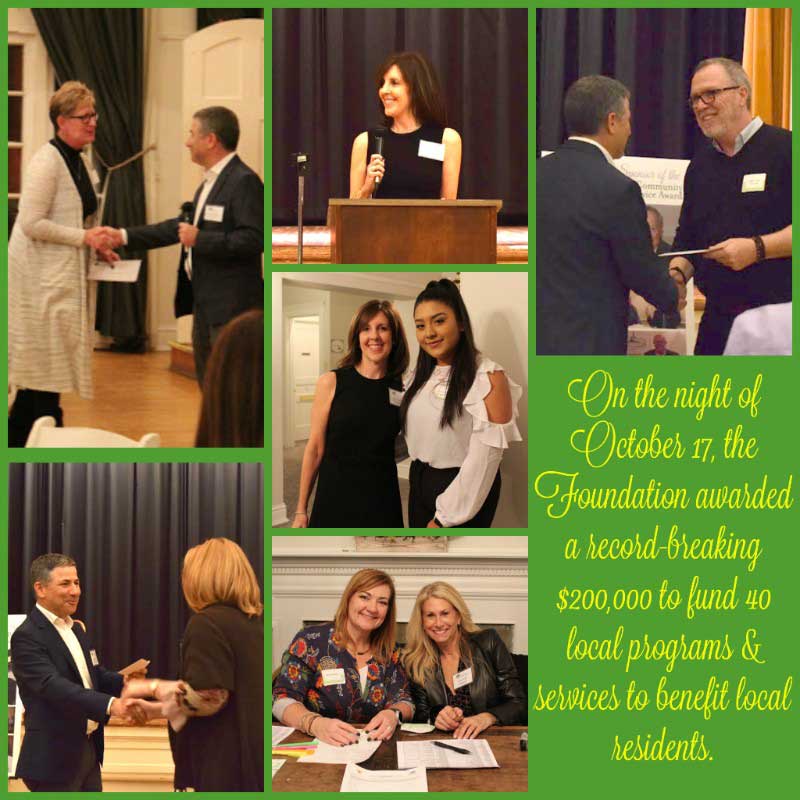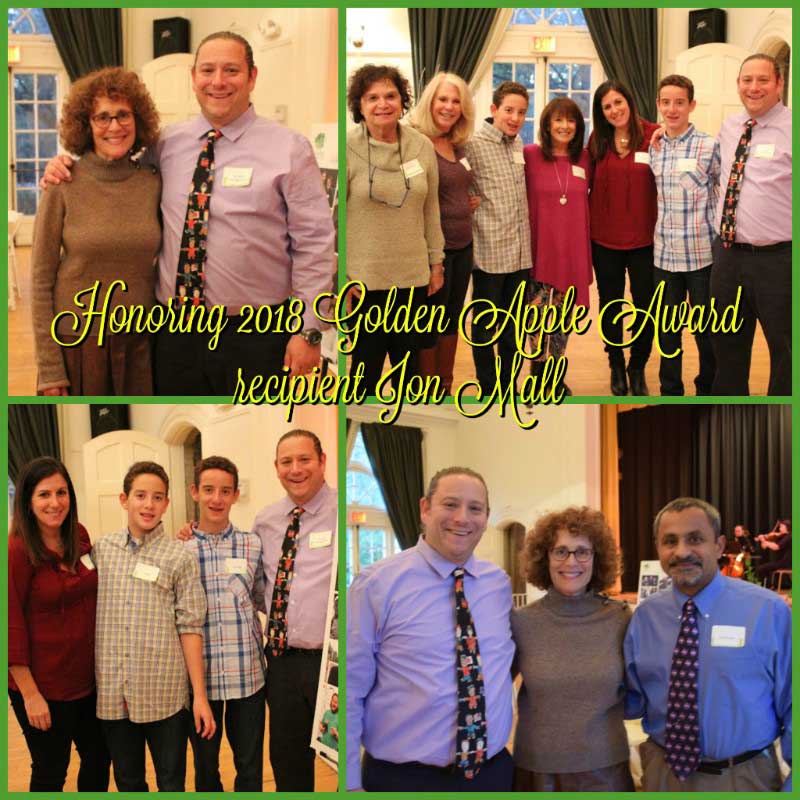 To view additional photos, please:
click here
HPCF Jack Blane Community Service Award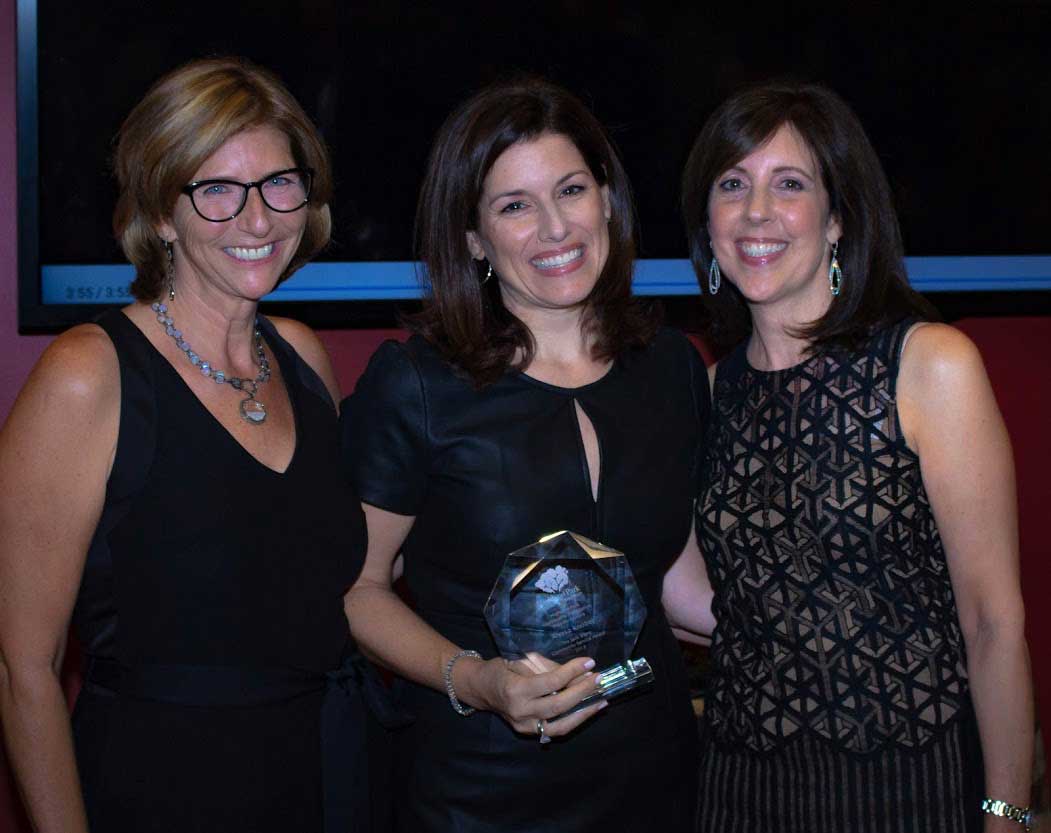 Betsy Brint (left) with Highland Park Councilwoman Alyssa Knobel (center), the recipient of the Jack Blane Community Service Award and Nancy Mills (right), chairman of the Highland Park Community Foundation.
The Jack Blane Community Service Award was created in 2014 to honor past HPCF founder, chairman, and board member Jack Blane for his outstanding service to our community, and to recognize individuals who have demonstrated a commitment to community service in Highland Park and Highwood. This year's recipient for this award is City Councilman Alyssa Knobel. "Alyssa's selfless desire to do good in the world inspires us all," noted HPCF Chairman Nancy Mills. "She is extremely generous, passionate and capable."
New Board Members
The Foundation is excited to announce its most recent new Board Members.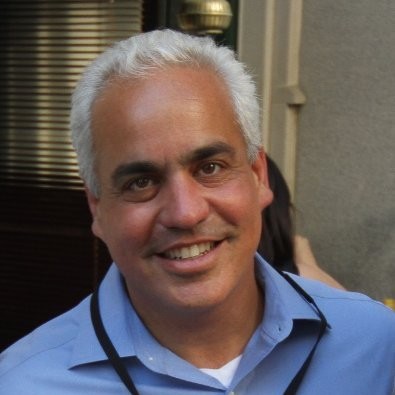 Craig Leva
Owner,
Arway Confections & Long Grove Confectionery
Craig is the president and owner of Arway Confections (Chicago, IL) and Long Grove Confectionery (Buffalo Grove & Long Grove, IL), and is a twenty-year resident of Highland Park. He is a graduate of the University of Wisconsin (1990) and has been married to Monette since 1993. Together, they have four kids (Ellee, Alex, Rachel, & Eli). The Highland Park Community Foundation's message "Give Where You Live" resonated with Craig. He joined as a board member in 2018 in an effort to make an additional impact for those in need within our own community. Craig is also a current board member for The Peanut Tree Nut Processors Association (PTNPA) and The Chicago Candy Production Club. Craig serves as a mentor for Buffalo Grove High School's Entrepreneurship Program, and is active with a number of local and national charities. Craig also manages his own family foundation.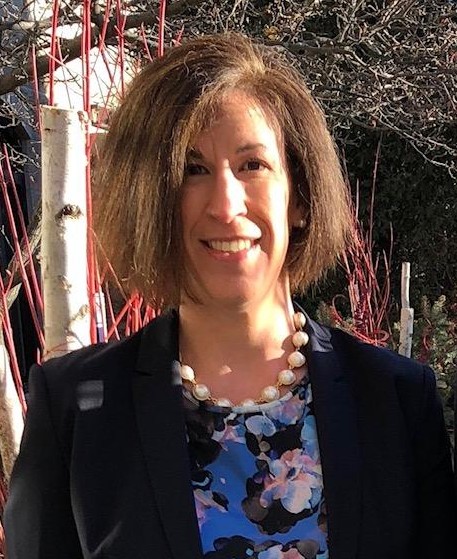 Robyn Schuster
Chief Operations Officer,
National Immigrant Justice Center
Robyn Schuster grew up in the northern Chicago suburbs, and, after living on both coasts, found a true home for her family in Highland Park. Robyn currently serves as the Chief Operations Officer for the National Immigrant Justice Center, a division of Heartland Alliance. Prior to that, she served as the senior director of operations at Medill, the storied journalism and integrated marketing school at Northwestern University. Previously, she provided communications strategy and outreach for Educational Enrichment Systems, a successful early education nonprofit serving low-income families in the San Diego area. At Indiana University-Bloomington, she served as Assistant Dean for Communications and Marketing at the IU Maurer School of Law, and Assistant Director of the IU Liberal Arts and Management Program (LAMP).
Prior to working in the education sector, Robyn enjoyed a successful litigation career as an associate at Arnold & Porter in Washington, D.C. While at the firm, she served as a loaned associate to the Legal Aid Society of the District of Columbia, representing low-income clients in landlord-tenant actions. She also had an active pro bono practice representing clients in habeas corpus actions and in successful challenges to federal statutes.
more

Jon A. Levey
President,
Highland Park Bank & Trust
Jon Levey is a Financial Business Executive with expertise in the integration of entrepreneurial vision with financial and human capital management to achieve winning results. A resident of Highland Park, Levey is the President of Highland Park Bank & Trust (HPBT), a member of the Wintrust community banking system, where his responsibilities include guiding the growth of the bank and representing the bank within the Highland Park community.
Levey is a sought-after thought leader within the business community and has spoken on the topics of green/sustainable business, social enterprise, green building/valuation, entrepreneurship, and small business finance at the Social Enterprise Alliance's annual summit, Green America's Green Festival, the Good Food Family Farmed Financing & Innovation Conference, GreenTown Oak Park, Chicago Association of Realtors, the Appraisal Institute, the American Council for an Energy Efficient Economy's Energy Efficiency Finance Forum, to various colleges, universities and high schools including often at Highland Park High School within the business and entrepreneurship classes.
more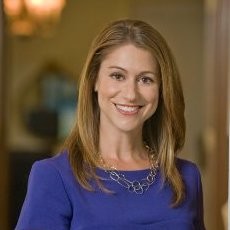 Jamie Strait
Executive Director
Schools & Programs for Alumni Relations and Development, Northwestern University
Jamie is the Executive Director of Schools and Programs for Alumni Relations and Development at Northwestern University. In this role, she leads the teams that fundraise for Northwestern's non-degree conferring units, including Student Affairs, University Libraries, Financial Aid, and the Block Museum of Art, as well as the Parent Giving program.
An alumna of Northwestern's Medill School of Journalism, Media, Integrated Marketing Communications, Jamie spent a decade as an award-winning broadcast journalist before joining Northwestern's development team in 2009. She serves as the liaison to the board of Northwestern Hillel and is a member of the executive board of the Indian Trail Elementary School PTO. She lives in Highland Park with her husband, Mark Muller, and their three children.
First Bank of Highland Park
Ruth Fell Wander Wall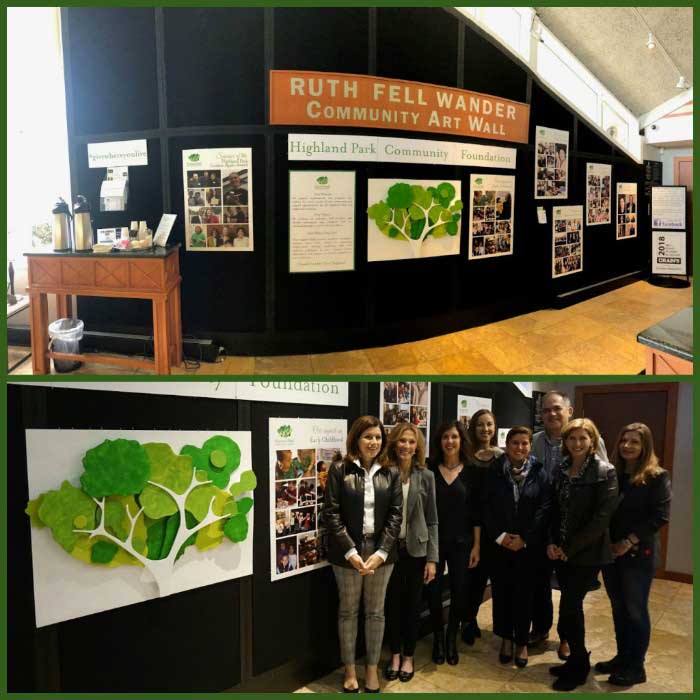 Since 1992, the Highland Park Community Foundation has addressed the unmet needs of thousands of our neighbors by filling in the financial gaps for many organizations that provide programs and services for Highland Park and Highwood residents. Until October 31st, stop by First Bank of Highland Park to learn how the Foundation is uniquely positioned to maximize the community's resources to provide extraordinary social services, youth support, and cultural programs. The Foundation is committed to helping nurture our children, strengthen families, develop leadership skills and academic confidence in teens, and assist older adults in retaining their independence — all needed for a better quality of life for our residents and a more vital community.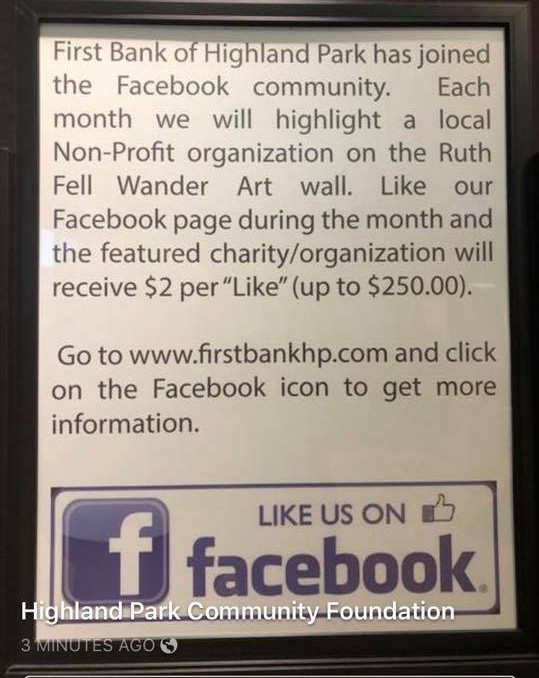 To help the Foundation earn $250 immediately, please "like" the First Bank of Highland Park Facebook page!
Now Accepting Nominations for the 2019 HPCF Golden Apple Award
The Highland Park Community Foundation (HPCF) is now accepting nominations for its 2019 Golden Apple Award. Now in its ninth year of honoring excellence within the teaching profession in North Shore School District 112, the Golden Apple Award recognizes and celebrates outstanding teachers whose efforts demonstrate the impact that inspiring teaching has on children in the Highland Park/Highwood communities. "The Golden Apple Award is Highland Park Community Foundation's platform to honor and reward one of the community's deserving educators for his or her dedication to enriching the lives of students and guiding them towards academic success," said Sara Sher, HPCF Golden Apple selection committee chairperson.HPCF's Golden Apple Award nominations will be accepted for full-time teachers currently working within North Shore School District 112 in grades K-5. Nominations are welcome from all community members including students, parents, colleagues, and administrators (nominations by family members and self-nominations are not accepted). To nominate a teacher, please visit this nomination form.The recipient of this prestigious annual award will receive a $2000 honorarium, a $500 gift card to the Apple store, and the celebrated HPCF Golden Apple Award. The teacher who earns the 2019 Golden Apple Award will also be recognized by both the school and the district as well as honored by the Highland Park Community Foundation.Nominations for the 2019 HPCF Golden Apple Award close on Wednesday, November 14, 2018 at 5:00 P.M. Application materials will be mailed to each nominated teacher. Teachers must have completed four full years of teaching and have spent the majority of his/her time in the classroom teaching grades K-5 and commit to teaching for a minimum of two additional years in the Highland Park and Highwood community after receiving the award.
For more information or questions regarding the HPFC Golden Apple Award, please contact Sara Sher at sarasher@comcast.net. For more information about the Highland Park Community Foundation, please visit: https://hpcfil.org.
Photos from our Gather for Good Event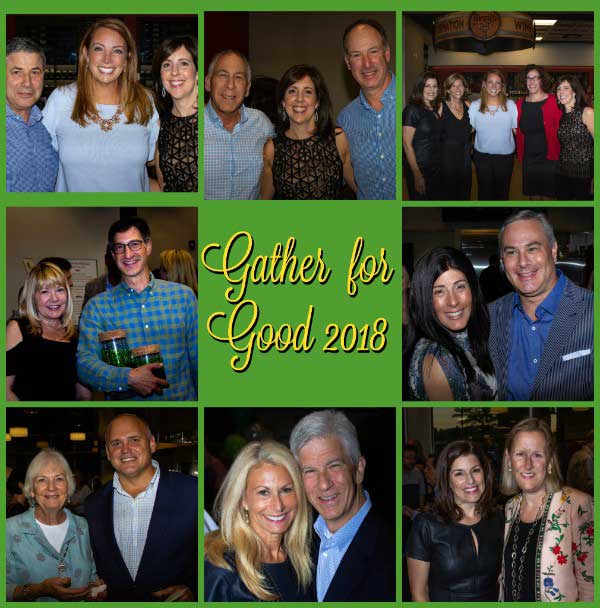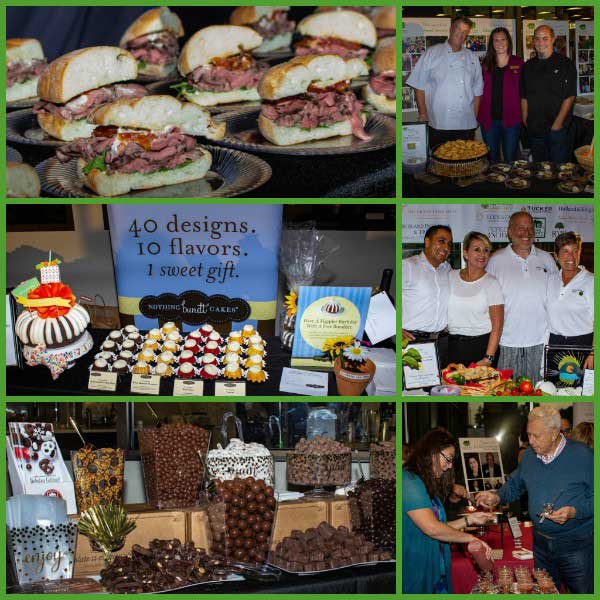 To view additional photos:
click here
HPCF Board of Directors and Officers
Officers
Nancy Mills, Chairman, David Reich, Vice-Chair, Betsy Brint, Secretary, Julie Kraff, Treasurer
Directors
Sofia Alvarez, Deborah Bleich Cogan, Peter Flanzer, Cookie Kohn, Tom Koulentes, Craig Leva, Jon A. Levey, Laurie A. Levin, Jean Meadows, Walter Nathan, Joe Reinstein, Karen Reisin, Robin Schuster, Donald Stewart, Jamie Strait
City Council Liaison
Alyssa Knobel
District 112 Liaison
Monica Schroeder
HPHS Liaisons
Lisa Berghoff, Debby Finn
Lifetime Directors
Lawrence Block, David Hoffman, Lucy Minor, Jane Shapira
Advisory Board
David Blumberg, Richard Cortesi, Elly Lieberman, Andrew Livingston, Patty Pell, Steve Putzel, Virginia Schulte, Bruce Sperling, Sallyan Windt
Honorary Directors
Nancy R. Rotering, Michael Belsky, Ray Geraci, Daniel Pierce
Executive Director
Terri Olian
Administrative Assistant
Deborah Brill
Email Us
Visit Us
Follow Us
Share with Friends
Forward to Friends
BACK
---